My friend Dr. Christina Hibbert, clinical psychologist, PPD specialist and 30Second Mom Contributor, recently released her first book This is How We Grow. It is an amazing memoir filled with an emotional account of her incredible journey and the life lessons she learns along the way. I was able to "sit down" with her and ask a few burning questions I had, both about her book AND life in general!
Q: What is the one most important thing you would tell your "before" self, knowing what you do now?
Dr. Christi: "All is well." When we're in the thick of stress or trials, it's so hard
to believe that, but in the end, it's almost always true. I wish I
could have let go of the worry and stress and fear more, especially
since so much of it was out of my control. I even wrote a chapter on
surrendering control, but it's hard to do. If I could have let more of
that go, I would have been more open and available to the love that was
always there–from my husband, my kids, others, myself, and God.
Q: What has best prepared you to become a writer? How did you learn the process?
Dr. Christi: First, I love stories. I am a people-watcher, and as a psychologist, I
love learning how people work. That fueled my desire to write. Second,
my life experiences prepared me. Without a great story or wisdom to
share, it doesn't matter how great your writing might be. Finally, I've
always loved writing. I've been an avid journaler since I was 10, loved
my writing classes in High School, and took so many writing classes in
college, I probably could have minored in it. I guess that's how I
learned the process–by writing. As I decided I was going to write my
story into an actual book, I began writing every night. Sometimes, just
for 10 minutes, sometimes more, I would pick a topic and write without
lifting my pen from the paper. It's an exercise I learned in college.
Many of my essays and insights came from those writings, and it got me
in the habit of writing every day. As I got more into the process, I set
writing goals for each week. First it was 5 hours, then 10, then 15,
then 20. It helped me write, even when life was calling me to do other
things.
Q: What preconceptions did you have going into parenthood that you changed?
Dr. Christi: Wow. Well, many of them. For one, I thought it would be easier. I had no
idea how hard the sleep deprivation and constant-ness of parenting
would be for me. Also, I really thought I would love every minute–that
being a mother would fulfill me completely and I wouldn't need anything
else. That hasn't been my experience, and I really struggled with that
for many years. It made me feel like "a bad mom." But I've learned over
the 17 1/2 years I've been a parent that we are all made differently,
and just because I have other talents to share with the world outside of
parenting doesn't mean anything about the kind of mother I am. In fact,
when I develop, utilize, and help others with my talents, I am a better
mother. I'm teaching my kids to go for their dreams and showing them
how to do it. I'm also happier and more grateful each day to be home
with the kids. I can love them more fully when I am true to who I really
am.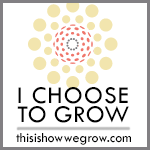 Q: Many moms feel a loss of identity after having children. What is the single best way you have found to re-discover who you are?
Dr. Christi: Such a true statement. I see this all the time in my office–mothers who
don't know who they are, who give everything to their children and have
nothing left for themselves or even their other relationships. For me,
rediscovering who I am requires time alone–away from "being mom." It
might be an hour or a day or even a few days, but I need regular time to
think, pray, ponder, write in my journal, read, learn, and remember who
I am as "Christi," and not just "mom." My husband has learned how
important my need for this is, and he encourages me, knowing I always
return so much more confident, comfortable, and joyful. Also, I always
encourage mothers to pursue their interests even while they are raising
their kids. Now, I don't mean go to work full-time or be gone all the
time. I mean remember something you love and do it once a week, or once a
day, if you can. It can be as simple as crafting, singing, hiking,
going to lunch with friends, drawing, or anything that makes you "you."
The hardest thing I see as a psychologist is women who, after the kids
are gone from home, come to me and say, "I don't even know what I like
to do." They are completely lost. Don't lose yourself. Make it a
priority to discover and find a little piece of "you" every day. (And
again, your kids will benefit so much when you do!).

Q:What are your favorite books, either for pleasure reading or self-improvement?
Dr. Christi: I love to read. I read every night before bed and as often as I can. I
love self-help, memoirs, and fiction. Really, I love a great story that
helps me learn something or I love a new idea that I can implement in my
own life. Some of my all-time favorite non-fiction books include: The
Untethered Soul, Bonds that Make Us Free, anything by CS Lewis or
Stephen Covey, and lately, Daring Greatly. My favorite memoirs are The
Glass Castle and Angela's Ashes, and my favorite novels of all time
include The Lord of the Rings, Pride and Prejudice (and pretty much all
Jane Austen books), Pillars of the Earth, and The Sevenwater Trillogy.
Recently, I loved Edenbrooke, and yes, I did read and enjoy all the
Twilight and Hunger Games books, and I'm working on the 3rd in the
Divergent series!
Make sure to check out her book on Amazon.com! It is one you will treasure for years to come, and you just might find that it helps you grow as well. You can also check out her blog, which offers excellent posts on everything from practicing patience to restoring relationships to creating a more peaceful holiday (yeah, we all need that right now!).