"This is How We Grow" Blog Hop 2103
I am a huge reader. Pre-Kindle, half of my suitcase was filled with books when I went on vacation. When my friend and fellow 30Second Mom contributor, clinical psychologist Dr. Christi, sent me a preview copy of her new memoir This is How We Grow, I was simply honored and excited to learn more about my friend. I never imagined that I would be absolutely consumed by this book, and it would affect me in such a profound way. I can truly say it is one of the best books I have ever read, period.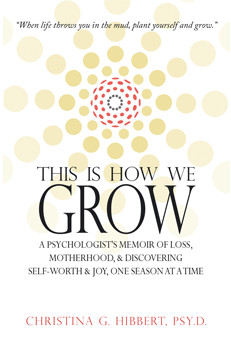 You see, to me, Christi is super mom. She is one of those moms who always looks SO put together, has amazing ambition, AND is raising six children. I, on the other hand, just yelled at my 2 year old for leaving his Mack truck on the floor where I swear I broke my toe as I tripped over it. She is incredibly inspiring, but I have always felt that she might just have the magic touch whereas I am continually overwhelmed with anxiety and over-analysis.
Christi doesn't just have the magic touch, she WORKS at growing each and every day. Her memoir is an incredibly personal account of how her family came to total 6, and how she, the doctor, became the patient. She lost her sister and brother-in-law within months of each other, inherited their two children, and gave birth to her daughter…going from three to six children almost overnight. Here is a photo of her family "before" and an excerpt from her book:
But she isn't perfect, and things don't magically fall into place for her. She struggles through periods of grief, anger, frustration, guilt…all the emotions that us non-super moms experience on an almost daily basis. Through reading her story, I discovered new ways to deal with my own challenges. Being a mom isn't easy, but this moving account shows that even a psychologist has a tough time dealing with it, so give yourself a break! I hope you enjoy her memoir as much as I did, and can learn from her journey and grow as well. I will be posting a Q&A with her later this month, but read up in the meantime!
You can download a FREE copy today (Nov. 13th) only on Amazon! Bloggers, she is also hosting a blog hop with the theme "I choose to grow," a great way to share your story and link up your blog. You can learn more about Dr. Christi on her website, and make sure to like her Facebook page– lots of great tips there! And of course, make sure to check out her 30Second Mom tips…my favorite is how to keep kids from constantly interrupting– simple yet brilliant.
Enjoy!